The CEP awards are presented annually to students who achieve the highest marks in the course. Additionally, the University of Tasmania offers a prize to students based on the level of engagement and quality of participation in the course.
Medicines Australia hosts an annual Awards Ceremony to celebrate the achievements of students in the Continuing Education Program and to enjoy an excellent networking opportunity. This event has been paused during the challenges of a pandemic environment, but likely to re-start in 2022.
The ceremony includes with a welcoming address from the Medicines Australia CEO, followed by the presentation of the CEP Achievement Awards and the Code of Conduct Award by the Medicines Australia Chair.
UTAS Prize for Excellence Award
Finalists for the University of Tasmania (UTAS) Excellence Award are high-achieving students* selected by CEP course coordinators who have demonstrated evidence of:
Determination and commitment to the learning process
Dedication towards assignment submission/s through effort and completeness
Constructive contribution to program feedback
Personal engagement for the quality use of medicines
The UTAS Prize for Excellence Award only applies to programs that require submission of a written assignment.
Semester 1 & 2 Winners 2021: Daniella Samaila from GSK Australia & Samantha Wicks from AstraZeneca.
---
Code of Conduct Award
Finalists for the Code of Conduct Award include all students who achieve the highest mark for Program 1.
Excludes anyone who has achieved final mark via re submission or supplementary assessment.
Among finalists, the winner is determined through review of written assignments and online participation by UTAS panel; MA to make final decision if it is difficult to identify a clear winner.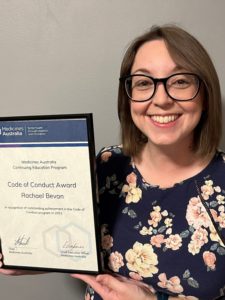 "It was a lovely surprise to receive this award, as this is my first role in industry, and my first time undertaking the course. I was fortunate to take a lot away from Program 1 – in particular, the opportunity to reflect on each module and consider its application in my role was really valuable. Thank you for opportunity to consolidate my knowledge of the Code and confidently implement its principles in my day-to-day activities!"
Code of Conduct Achievement Award winner 2021: Rachael Bevan from Biogen.
---
CEP Achievement Award
CEP Achievement Award winners are the students who achieve the 10 highest aggregate marks for the five core programs (out of a possible total aggregate of 500).
Program 3 Human Anatomy and Physiology is not included in the aggregate calculation, as not all students are required to undertake this program.
The award evaluation excludes anyone who has achieved his or her marks via resubmission or supplementary assessment.
2021 CEP Achievement Award recipients: Christopher Lems, Daniella Samaila, Claudio Sadek, Juanita Kidd, Nikki Pride, Madeleine Rapisardi, Manjit Singh, Megan Jefferys, Jess De Laurent, Abraam Gerguis.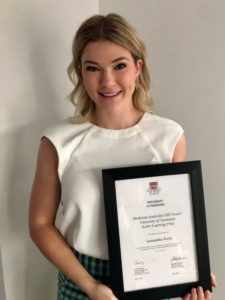 "The Medicines Australia CEP gave me great insights, increased my knowledge, and built my confidence for working in the complex pharmaceutical industry. " – Samantha Wicks, from AstraZeneca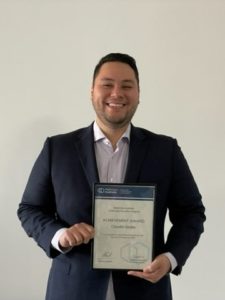 "Thank you to the Medicines Australia for this amazing opportunity and recognition and equipping me with the fundamentals and understanding needed for this industry" – Claudio Sadek, from Bayer Pharmaceuticals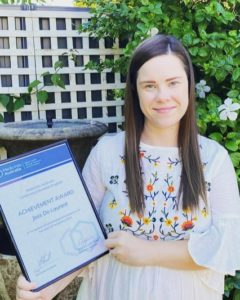 "I believe this is fundamental to my career and my ability to provide the highest standard of pharmaceutical support to health practitioners and thereby their patients, ensuring the right patient gets the right medicine." – Jess De Laurent, from Hahn Healthcare