Ethics awards for top company representatives
Thirteen company representatives from the Australian medicines industry received the sector's top accolade for ethical sales and marketing at a ceremony in Sydney yesterday.
The Medicines Australia Continuing Education Program (CEP) Awards are presented annually to company representatives and independent students who achieve the best marks in their compulsory ethical conduct education program.
Medicines Australia Chief Executive Mr Milton Catelin, said the mandatory program, run through the University of Tasmania, highlighted the industry's unparalleled commitment to ethical conduct.
"The innovative pharmaceutical industry relies on a partnership between sales representatives and healthcare professionals to help deliver effective new life-changing treatments to Australians," Mr Catelin said.
"These representatives have the important job of ensuring the dialogue between the companies who make the medicines and the doctors that prescribe them is productive, balanced and ethical.
"Interaction between medicines companies and health care professionals is an important part of promoting patient health, so it is essential we get it right.
"The continuing education program ensures company representatives are educated to the highest industry standard to provide healthcare professionals with accurate and balanced information.
"I congratulate all students who completed the course in 2016 and in particular the award winners. The fact that so many people have been recognised for their high achievement in this program shows pride in the industry, a passion to deliver quality education to healthcare professionals with the purpose of ensuring patients get the best use out of medicines that are available today."
The University of Tasmania Prize for Excellence Awards for the highest quality reflective assignment, active learning and participation in each semester of the course were presented to Alex Pietzsch from Boehringer Ingelheim and Mandy Brown, an independent student.
The Medicines Australia Code of Conduct Award included all students who achieve the highest mark for Program 1 and was presented to Dr William Ho, an Independent Student.
Also recognised at the awards ceremony were Judy Edmondson from Hahn Healthcare, Matthew Douglas from Commercial Eyes, Lucimar Nielsen from AstraZeneca, Nishant Baksh, Bessy Basso and Alex Pietzsch from Boehringer Ingelheim, Irina Savinykh from Seqirus, Catherine Van Daele from Shire, and Marissa Otley and Matthew Jones who are both independent students.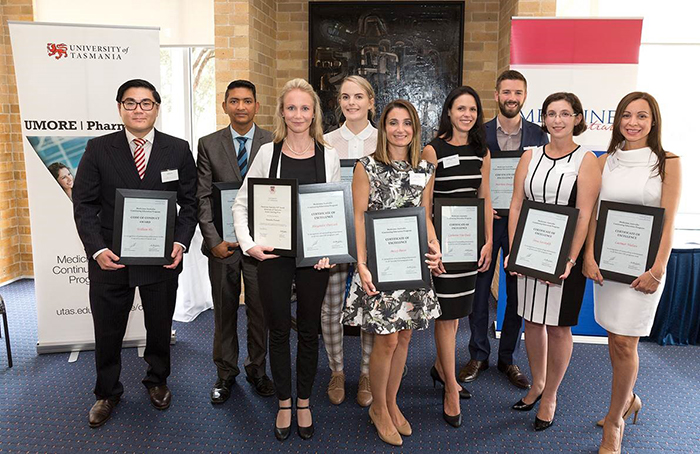 Contact:
Natalie Wimmer
Phone: (02) 6122 8500
Email: Natalie.Wimmer@medicinesaustralia.com.au