Medicines industry sets $4.3 billion export record despite industry downturn
In the face of job losses, falling sales growth, a high dollar, increased costs and a difficult business environment, the Australian medicines industry managed to achieve its best export performance on record in 2012, with exports topping $4.3 billion according to new figures published by the Australian Bureau of Statistics.
The new ABS report shows exports of pharmaceutical and medicinal products were up $578 million or 15 per cent on the previous year. The report also shows that the medicines industry is the Australian manufacturing sector's biggest high-tech export earner.
By comparison, exports for the car industry in 2012 were $3 billion, and for the wine industry $2 billion (see chart attached).
Medicines Australia chief executive Dr Brendan Shaw said the significant growth of pharmaceutical exports showed the potential in the industry if supported by strategic Government incentives for the medicines industry.
"In many respects the medicines industry has had a very tough year, with substantial price cuts, challenging policy settings, delays in having medicines subsidised, declining competitiveness and more than 300 job losses," Dr Shaw said.
"Against that background, for the medicines industry to achieve its strongest export result on record underscores the industry's potential for long-term growth and sends a very clear signal that this is an industry worth backing.
"Just imagine what Australia's medicines exports might have been if we had had in place a strategic program and predictable policy supporting the industry to grow in this country. "This kind of result highlights the industry's potential to be a key player in the post-mining boom economy.
There is a very strong case for the Government to establish an industry-neutral strategic co-investment fund to provide new investment in new manufacturing and R&D projects that benefit the nation.
"In terms of export earnings for 2012, the medicines industry was more than $1 billion ahead of its nearest rival, the car industry.
"With the right policy incentives such as a strategic co-investment fund, Australian medicines exports to Asia could grow substantially by 2020. Given our proximity and the expanding Asian market, the opportunities are tremendous."
-ENDS-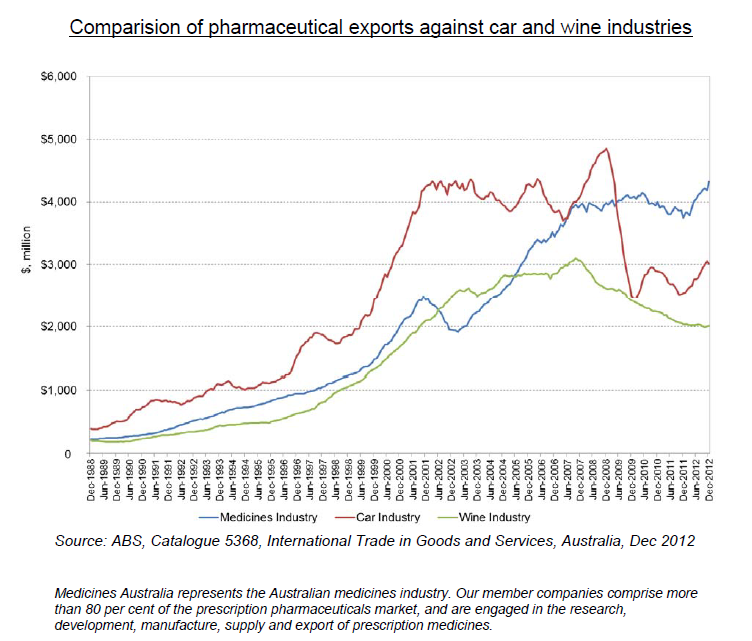 Contact Person:
Jamie Nicholson
Media Communications Manager
Phone: 0419 220 293
Email: Jamie.Nicholson@medicinesaustralia.com.au