New figures show clinical trial red tape reductions critical
New figures on the number of clinical trials demonstrate that reforms to improve the regulation of clinical trials are more important than ever.
Figures from the Therapeutic Goods Administration show that the number of clinical trials commenced in Australia fell by 10% in 2013. Since 2007 the number of new clinical trials conducted has fallen by 21%.
There was one bright spot in the latest numbers, with Phase I clinical trials conducted in Australia increasing by over 40% in 2013, compared to 2012. However, overall activity was down. The TGA's latest Half-Yearly Performance Report shows 681 new pharmaceutical clinical trials were begun in Australia in 2013, down from 759 trials in 2012 – a fall of 10%.
Medicines Australia Chief Executive, Dr Brendan Shaw, said that the latest figures highlight the need for the Government to move quickly to implement reforms to make Australia a more competitive destination for clinical trial investment.
"These new figures showing a fall in the number of clinical trials reiterate the importance of the Australian Government's clinical trial regulatory reform agenda," said Dr Shaw.
"We are really encouraged by the actions of the Government to date, such as its election commitments to accelerate the pace of reform, a commitment of $10 million to implement the reforms, and the creation of the new Clinical Trials Action Committee.
"But the challenge now is to ensure that the reforms identified over three years ago are implemented as quickly as possible.
"Australia has real potential to grow in this area given our excellent research capabilities, good reputation and high international standing.
"While the increase in Phase I trials is encouraging, we know that Australia has not benefited from the massive shift in clinical trial investment away from traditional centres like North America and western Europe to the Asia-Pacific.
"Clinical trial investment in regional centres like Singapore, South Korea and Japan has increased by as much 300% since 2007 while Australia has struggled to even maintain existing levels of investment."
Last year the McKeon Review of Health and Medical Research called for clinical trial reform to be made an 'urgent national priority' and in May this year, the Federal Government committed $10m to progress key reforms.
"We look forward to working with all stakeholders, including state and territory governments, on these important reforms because together we can make this country a leading destination for global investment in clinical trials for years to come," Dr Shaw said.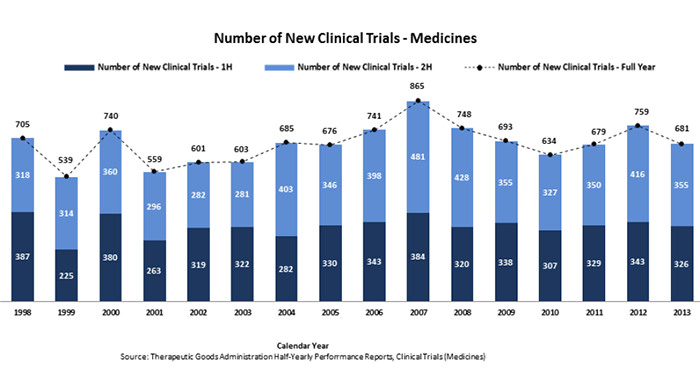 -ENDS-
Contact Person:
Alexia Vlahos
Phone: (02) 6122 8503
Email: Alexia.Vlahos@medicinesaustralia.com.au