Number of new clinical trials continues to fall
New figures from the Therapeutic Goods Administration (see below) show that the number of clinical trials undertaken in Australia has fallen for the fourth time in five years.
The TGA's latest Half-Yearly Performance Report shows 602 new clinical trials were begun in Australia in 2012, down from 635 trials in 2011 – a decline of 5%.
Clinical trial numbers are down 30% from their 2007 high of 865.
Medicines Australia chief executive Dr Brendan Shaw said the ongoing decline highlights the urgent need for the Government to deliver on its promise to implement major reforms that will make Australian R&D more internationally competitive.
"These reforms should have been implemented years ago," Dr Shaw said.
"While we welcome the Government's recent re-commitments to the required regulatory reforms, these figures and last week's McKeon report on health and medical research sheet home the importance of cementing these reforms into place as soon as possible.
"In fact, last week's McKeon report called for clinical trail reform to be made an 'urgent national priority'. Medicines Australia shares this view.
"Australia is recognised globally as having some of the best scientists and research infrastructure in the world and that is an important strategic advantage. But we are facing fierce international competition for clinical trial investment."
The Federal Government committed in 2011 to implement all the recommendations from the Clinical Trials Action Group, which was established by the Government to arrest the decline in clinical trials activity.
"Make no mistake, this is a key area of microeconomic reform for Australia," Dr Shaw said.
"Yet, more than two years after the report's release, the major recommendations have not yet been implemented. In the meantime, we have been losing trials to other countries.
"There is an urgent need for far greater political activity both at Federal and State level to implement these regulatory reforms.
"We are bleeding clinical trial investment to other countries at the moment.
"These reforms will help return Australia to the forefront of medical research and ensure the retention of thousands of high-skill Australian jobs.
"The very future of Australia's $1 billion clinical research industry is at stake.
"The competition for R&D investment from countries is extremely fierce. While commitments are important, at the end of the day it is only when the reforms are implemented that they'll actually make a difference.
"Only with the right policy settings in things like regulatory policy, intellectual property and the Pharmaceutical Benefits Scheme can we hope to grow our R&D industry and keep cutting-edge medical science in Australia."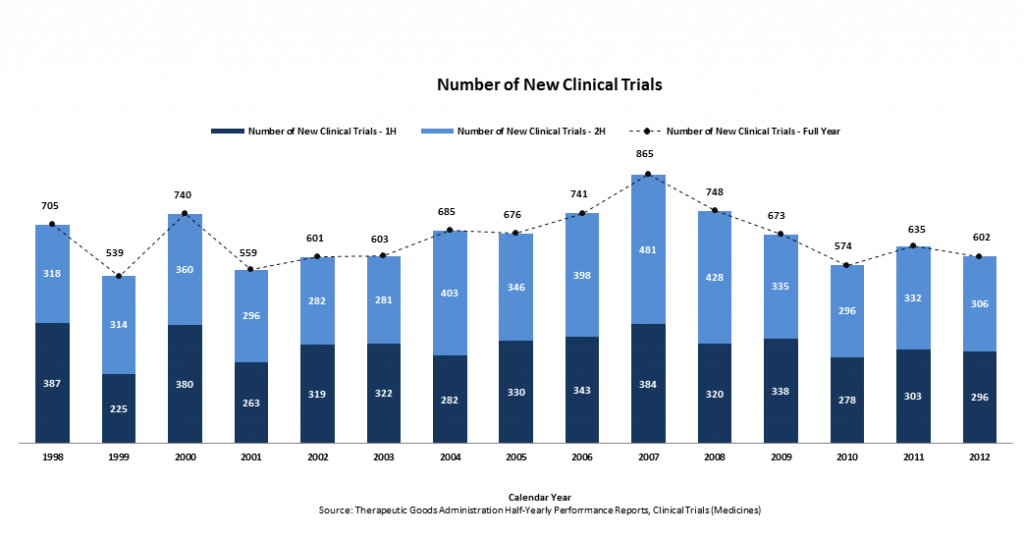 -ENDS-
Contact Person:
Jamie Nicholson
Media Communications Manager
Phone: 0419 220 293
Email: Jamie.Nicholson@medicinesaustralia.com.au