Parliamentary Budget Office confirms PBS spending not the villain
Figures contained in a report released this week by the Parliamentary Budget Office confirm that the Pharmaceutical Benefits Scheme has not been the major driver of growing Commonwealth health expenditure over the last decade.
"This is the first outbreak of sanity in the debate about PBS spending we've seen in a long time," Medicines Australia Chief Executive, Dr Brendan Shaw, said today. "If we're not careful we might actually start basing the PBS debate on facts, rather than the ill informed musings we've seen from commentators and think tanks in recent times.
"The report shows that the PBS has not been the main driver of growing health expenditure over the last decade. It's not the villain some people have painted it as."
The Parliamentary Budget Office report shows that:
Federal Government spending on pharmaceutical benefits grew by an average of 2.7% per annum in real terms over the decade to 2012-13
This is less than growth in overall Federal Government health spending of 4.8% per annum and, remarkably, even less than growth in the overall economy of 3% per annum over the same period
The PBS only contributed 10% of the total growth in Federal Government health spending over the last decade, despite accounting for 16% of health expenditure (see chart attached)
The Medical Benefits Scheme accounted for 44% of the growth in Federal Government health spending over the last 10 years, general health services 25%, and hospital services 19%, and
In 2012-13 Federal Government spending on pharmaceuticals fell by an historic 3.5% and only grew by 1.5% in 2011-12. These years were when major price disclosure price reductions for hundreds of generic medicines started flowing through the PBS.
"It's ironic that in the ten years since the 2002 IGR predicted the PBS would bankrupt the country, it turns out the PBS only made a small contribution to health expenditure growth and grew slower than the economy," Dr Shaw said.
"There's no doubt that reforms agreed between industry and governments have been key to keeping the PBS sustainable – at no small cost to the industry – while providing new medicines for things like cancer, arthritis, blindness, high cholesterol, high blood pressure, diabetes and mental health to the Australian community over the last decade.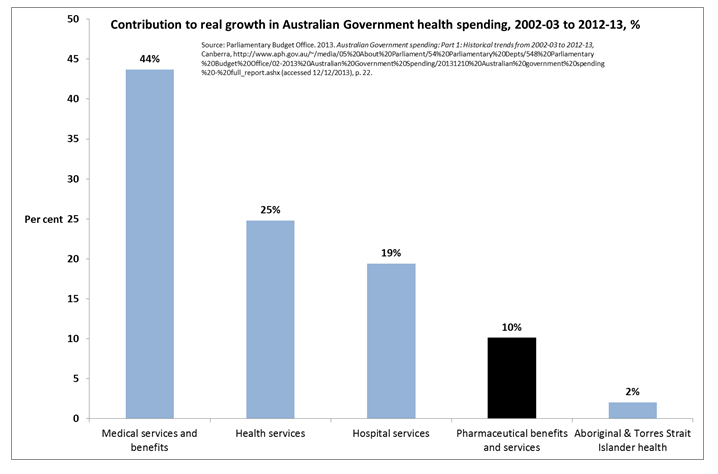 -ENDS-
Contact Person:
Alex Chapman
Phone: (02) 8281 3204
Email: alex@ogilvyprhealth.com