Pharmaceutical Exports Dive
Latest figures from the Australian Bureau of Statistics show Australian pharmaceutical exports declined by 18 per cent to $2.9 billion in 2014, compared to $3.6 billion in the year before.
Since 2012, when they peaked at around $4.3 billion, Australian pharmaceutical exports have declined by more than 30 per cent.
"These figures are extremely disappointing," Medicines Australia CEO, Tim James, said today.
"Pharmaceutical manufacturing is precisely the sort of activity that Australia should excel at. We have a highly-skilled labour force, a world-class infrastructure, a history of excellence in manufacturing innovation and, above all, a long-standing and well-justified reputation for manufacturing safe, high-quality medicines and vaccines.
"Despite this, new investment in pharmaceutical manufacturing in Australia remains negligible, which clearly shows that all these factors are simply not enough to keep Australia competitive."
Unfortunately, the decline in Australian pharmaceutical exports comes at a time when the global market for medicines and vaccines is booming. It is already worth over US$1 trillion per year in sales, and is expected to nearly double in size by 2020.
"Much of this growth is going to come from emerging markets in Asia," Mr James said.
"But right now, we just don't have the correct policies in place to capitalise on this growth. If this continues, we will no doubt miss out on this once-in-a-generation opportunity, regardless of how good we may look 'on paper'."
Last year, Medicines Australia, in partnership with AusBiotech, submitted a joint proposal to the Australian Government on steps it should take to build a stronger pharmaceuticals industry in Australia.
Broadly, the proposal called on the Government to:
ensure a stable, predictable and efficient business operating environment,
strengthen Australia's intellectual property system,
enable growth in Australia's local biotechnology sector, and
enact globally competitive incentives such as tax breaks to encourage investment.
"Implementing these policies would show that the Australian Government is serious about attracting investment and that Australia is truly 'open for business'," Mr James said.
"Globally, the pharmaceutical industry invests billions each year in manufacturing. If we want to attract a bigger share of this investment, we be must be proactive, decisive and coordinated, especially with respect to the policy environment."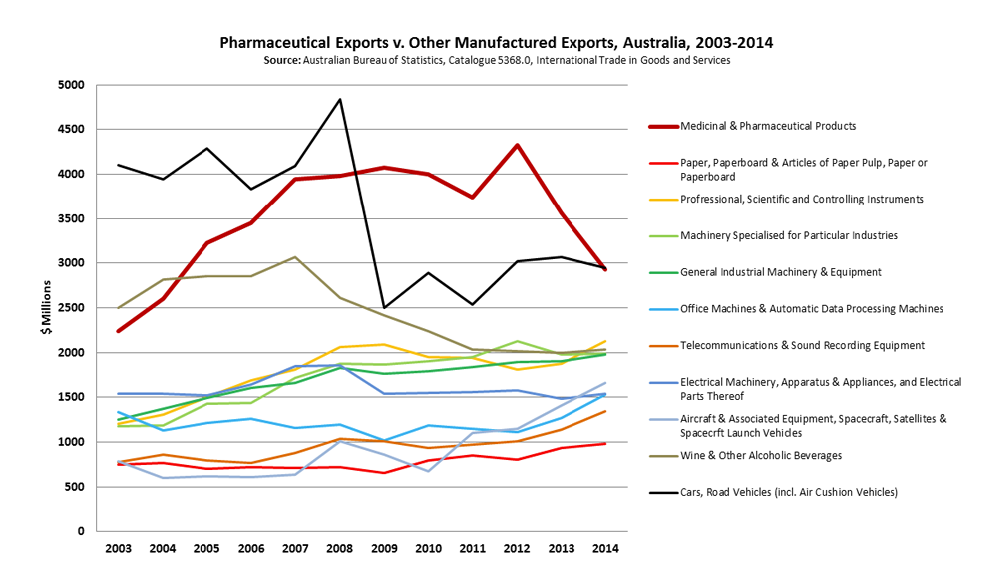 -ENDS-
Contact Person:
Alexia Vlahos
Phone: (02) 6122 8503
Email: Alexia.Vlahos@medicinesaustralia.com.au