Final Budget Outcome Confirms PBS Is Sustainable
The release of the Final Budget Outcomes for 2014‑15 has revealed policy reforms are continuing to put downward pressure on PBS expenditure.
The final Budget papers released today reveal that forecast PBS expenditure has been continuously revised down, year on year since 2011. The final PBS outcome is $2.56 billion below the original forecast in May 2011 and finished $285 million below forecasts in May this year.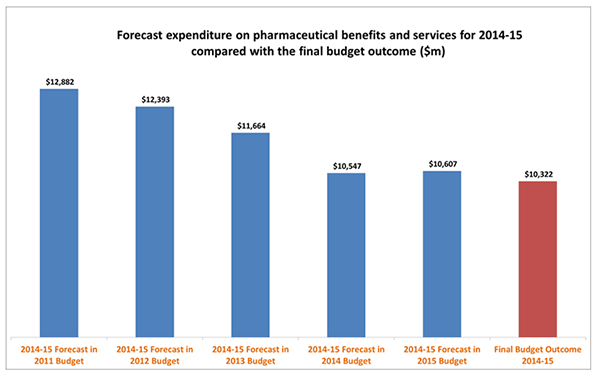 Medicines Australia CEO Tim James said, "These figures confirm that the PBS is on a sustainable path."
"The further $6.6 billion of reforms announced in this year's Budget will continue to drive PBS spending down and we are yet to precisely see how these changes will impact on the Budget going forward."
"The policy reforms up to now have made the PBS sustainable so that the Government can continue to provide Australians with access to the latest available medicines."
"However, ongoing changes to PBS policy make it difficult for the inventors and makers of medicine to invest in Australia with confidence. A period of policy stability would allow the industry to work with the Government to realise the potential of the local innovative medicines sector."
"As the forerunners of innovation in medicines, we are keen to work with the Minister for Health, the Minister for Industry, Innovation and Science and their Cabinet colleagues to harness the opportunities for the sector and for Australia."
"Our industry spends around $1 billion a year on research and development and clinical trials in Australia and is looking for opportunities to collaborate with our best scientists and universities to discover the next generation of treatments for the Australian people."
"If we bring stability to the medicines sector, it would not only help Australians to live long and healthy lives, but also help support thousands of jobs in universities, hospitals, research centres and biotech companies.
"Together, we can deliver a smarter, stronger and healthier Australia if we get the policy settings right. Medicines Australia stands ready to help the Parliament fulfil this potential."
Contact:
James Boyce
Phone: 0423 239 265
Email: James.Boyce@medicinesaustralia.com.au
Alexia Vlahos
Phone: (02) 6122 8503
Email: Alexia.Vlahos@medicinesaustralia.com.au