PharmAus22: Partnering for Future Health
#MedicinesMatter
NEW DATE TBC.
This year's theme is Partnering for Future Health and builds on the current significant health reform agenda facing the Australian Parliament. Under a new Government, we have a huge opportunity to improve health outcomes for all Australians by working in collaboration with Government, patients, clinicians and others in the health system.
There is no doubt that health is dominating community and political debate. The ongoing COVID-19 pandemic, access to vaccines and medicines, and health system pressures are affecting every corner of Australian society. With the new Labor Government and new Health Minister, now is the time to engage with thought leaders and decision makers to drive significant and lasting reform to improve the health of all Australians.
The event will feature a VIP MC and three panel sessions with representatives from industry, patient groups, government and clinicians, exploring the importance of partnership to guarantee improved future health for all Australians.
For more information, please contact Kaity Harris, Member Communications & Events Coordinator via kharris@medaus.com.au
Master of Ceremonies
Virginia Haussegger AM
Virginia Haussegger AM is an award-winning journalist and gender equity advocate. Her extensive media career spans 30 years, in which Virginia has reported from around the globe for primetime current affair programs on Channel 7, the 9 Network, and ABC TV. She anchored the ABC's flagship TV News in Canberra from 2001-2016.
A leading social commentator, Virginia is widely published across Australian media and remains a regular contributor to The Canberra Times; The Mandarin; Sydney Morning Herald and The Age.
Widely recognised as a leading communication and media strategist, Virginia regularly hosts a broad range of public forums, conferences and panel discussions, covering diverse fields of knowledge spanning academic, public and private sectors. She has worked across Commonwealth departments on the design and delivery of bespoke communication and presentation masterclasses. Virginia is an ANZSOG Fellow and sessional Lecturer in the Public Policy Program (BGL) at the University of Canberra.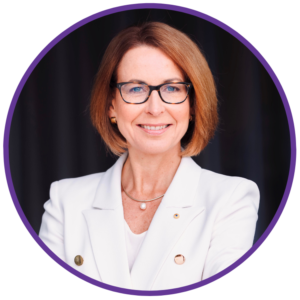 Session 1: Defining the future of health
Australia's healthcare system must be agile and adaptive so patients can have fast access to emerging innovative medical therapies.
To keep pace with international standards, this session discusses what's needed to ensure Australia remains at the forefront of healthcare.
Hear the perspectives from a patient, industry, and Government representative on what new medicines treatments and medical technologies are on the horizon.

Session 2: the power of the patient voice
Better patient outcomes derived from collaborative partnership in care across the entire healthcare landscape remain a focus for the industry.
Together, we can achieve patient centered care that is respectful of, and responsive to, the preferences, needs and values of patients.
A discussion with Government officials, HTA experts and patient group representatives from minority groups to discuss the importance of having the patient involved in the decision-making process for their treatment journey.

Session 3: Partnering with Government – the key role of MPs and Senators
The COVID-19 pandemic demonstrated that working together with a common goal can save lives, improve quality of life and protect public health. Industry and government worked collaboratively to deliver innovative solutions that were huge in scale and fast in pace.
We must continue this forward momentum to make quicker access to new medical technologies for Australian patients the norm, not the exception.
In this session we hear from members of the Australian Parliament about how they see their role in representing constituents in the quest for faster access to new medicines and treatments.

Industry Showcase
The exhibition will showcase the innovative ways that Medicines Australia members have partnered to ensure better health outcomes for Australian patients.
The showcase will include an address from the Hon Mark Butler MP, Minister for Health and Aged Care, and Senator the Hon Anne Ruston, Shadow Minister for Health and Aged Care.
Exhibitors